STEVIE JONES And The WILDFIRES-Clarity In Dusk (Wildfire Sessions, WSP0019, CD/DL)
"It seems that Stevie Jones And The Wildfires have been on the local musical landscape for ages. Regular gig-goers will undoubtedly recognise their name from shows around the county (and beyond) but it always felts as if the band were destined for the national stage, well that step-up in class is now here with the band's third album, Clarity In Dusk.
Perhaps attesting to the band's vintage, opening track 'Violet Lane' is a slow builder. Most bands, keen to make an impression, arrive in a blaze of guitars and thunderous drums, this quintet take the opposite route that attests to The Wildfires slow burn. It's a track that grows organically adding layers of sound, almost imperceptibly, until you are encased in a ball of sound that leaves you wondering how you got there. That this track (and, indeed, the whole album) has an organic feel should come as no surprise as the seeds of this long player were planted during Covid lockdown when Stevie wrote and released a parred back acoustic record (Come In From The Rain). This album feels very much like an extension of that era and it has a similar earthy feel that speaks of autumnal walks through (quintessentially) English countryside. But make no mistake, this is a rock album played by a band who are very much plugged in and amplified, and the earwormy 'Come in From the Rain' has "hit" single written all over it and is screaming out to be put on a Radio 2 playlist.
There's something of Ray Davies about Stevie's lyricism and, just like Ray, his words detail the minutiae of modern life and each of the 9 tracks on this album are like mini novellas. That storytelling vibe is most notable on 'Do Or Die', a song that details they everyday struggles of life; it's a story that's played out thousands of times each day, yet it takes a John Clare, a Morrissey, or a Stevie Jones to find the beauty within the struggle and make it palatable it for mass consumption. With a touch of Billy Bragg 'Broken Doll' captures the melodic end of the tuneless one and just like 'Come In From The Rain', seems destined for the charts. As a critic, it is my jobs to find fault and pick holes, yet there's no point of weakness on this record to give me an in and unravel it.
Ensuring things end in a typically bittersweet fashion, final track 'Gone But Not Forgotten' marries an upbeat tune with longing lyrics. It's an old trick, to be sure, but it has rarely been done with the confident swagger displayed here.
It's time for you to find Clarity In Dusk!"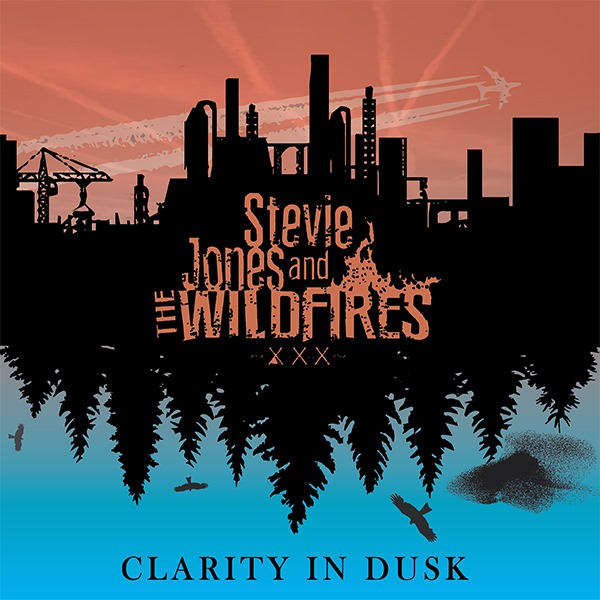 "This is a lovely album, with strong songwriting throughout (and great playing). The vibe is soft rock/alt-folk/Americana. There's a nice dose of melancholy and reflection but it's also uplifting too."
R n R Magazine Nov/Dec Issue 
Thanks to Dave Haslam for giving 'Clarity In Dusk'  4 stars referring to it as a 'melodic and rather splendid collection'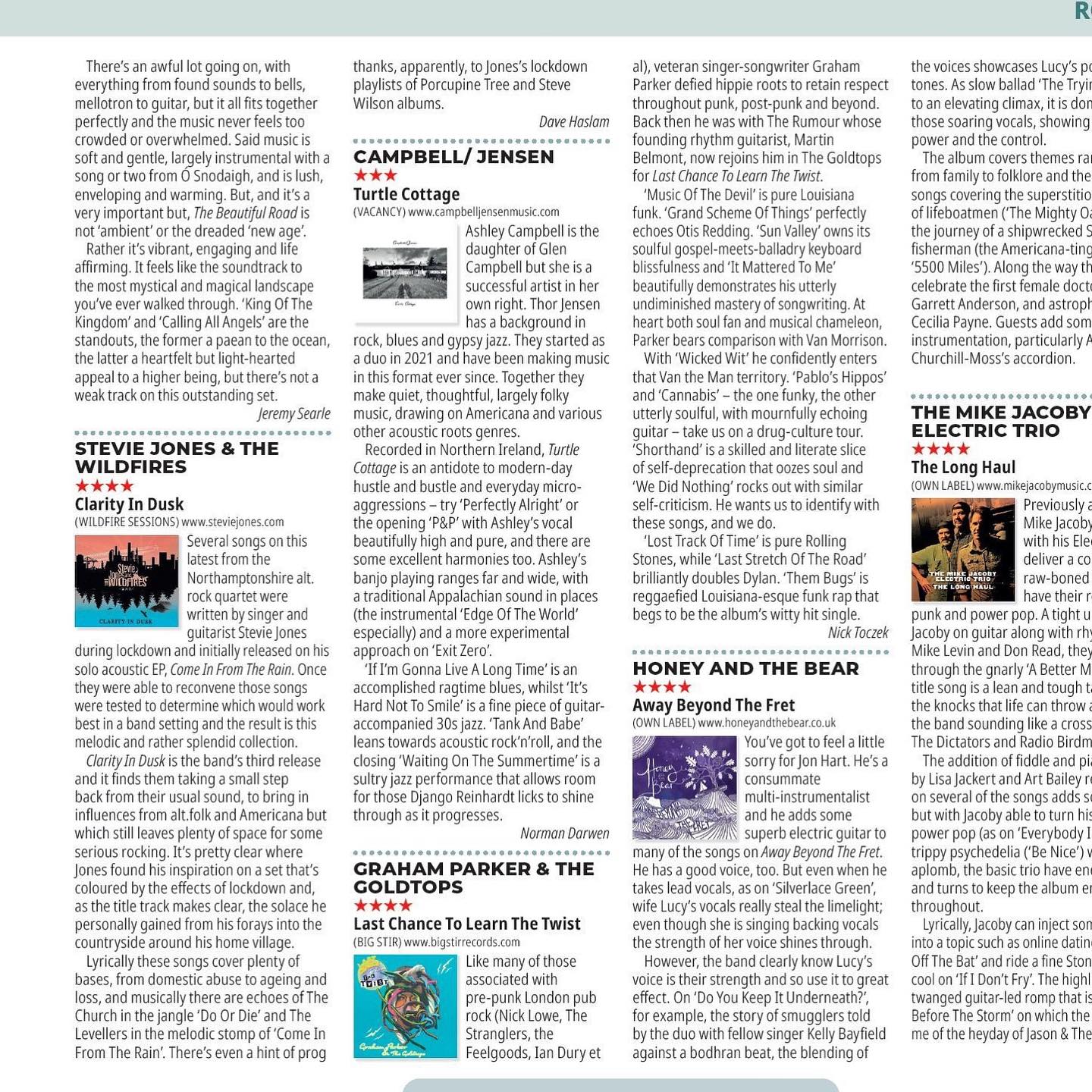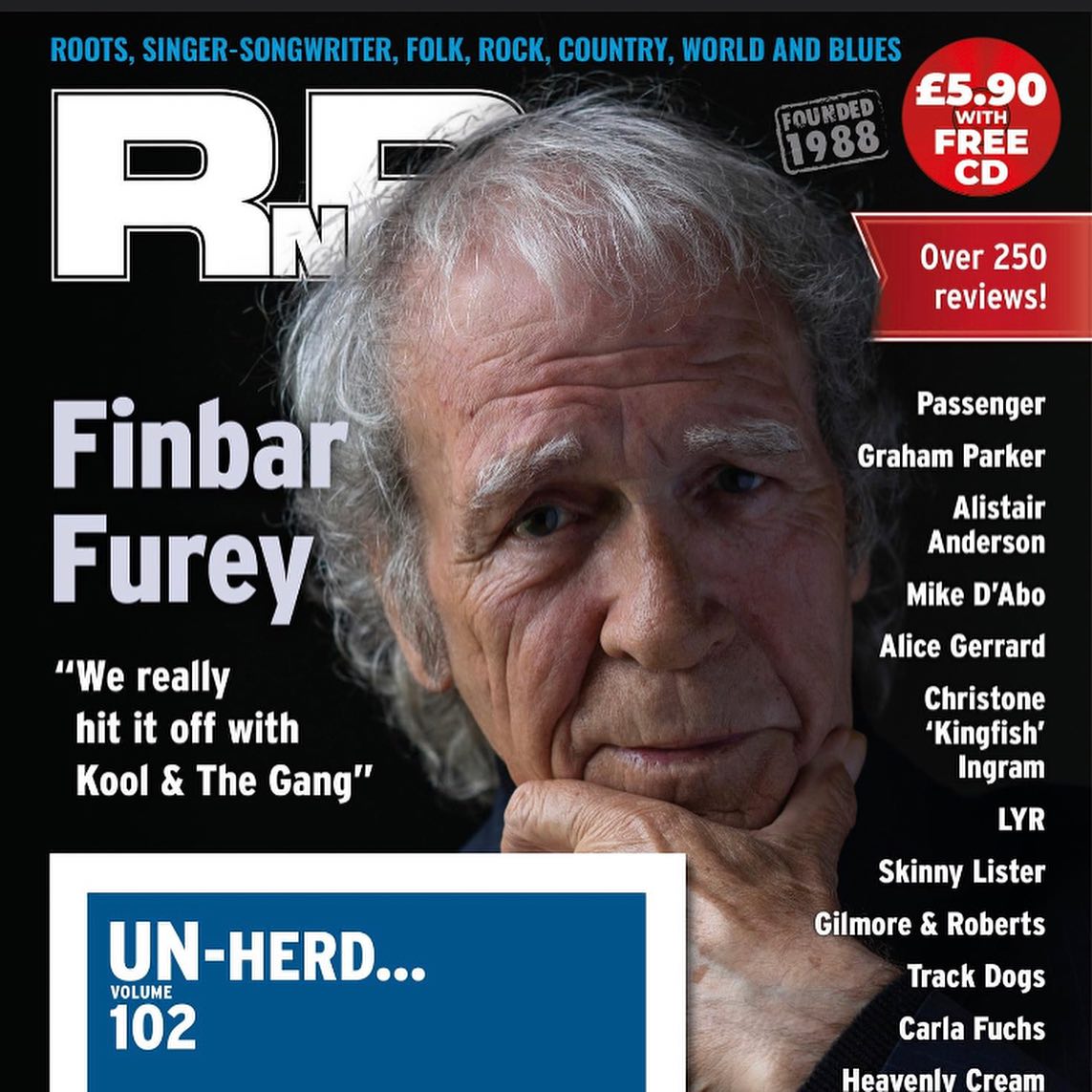 REVIEW + INTERVIEW OCTOBER 2023
The Singer Who Paints Music Blog Album Launch Review Mama Liz's Stamford 13-10-23
By Jodie Erica
"Their energy filled the room as they rocked out and presented their creative and meaningful 9-track studio album, recorded at Deadline Studios in Leicester with producer Adam Ellis.
Each song is praised and cheered by the listeners, and many fantastic moments are collated throughout the evening from crowd interaction, clapping, dancing, singing, and enchanting instrumental solos. Stevie has a great natural stage presence that creates a friendship with the audience as he tells them stories behind their music and creativity.
"Really great evening. Stevie Jones and The Wildfires are very engaging, Stevie is expressing his truth and it will inspire other people" - Gabriella and Tony
The 'Clarity In Dusk' album includes many thought-provoking songs that express feelings towards shifts and changes that occur when passing through different phases of our lives.
You can feel the real emotion and wisdom from Stevie whilst singing his songs as not only do they express real-life experiences but also worldly affairs that we can all collectively relate to, and with The Wildfires coming together through their own lived experiences and passion to play, this radiates such a wonderful feeling of relatability and unison."
>>FULL REVIEW HERE INCLUDES FULL BAND INTERVIEW AND FOOTAGE FROM THE NIGHT<<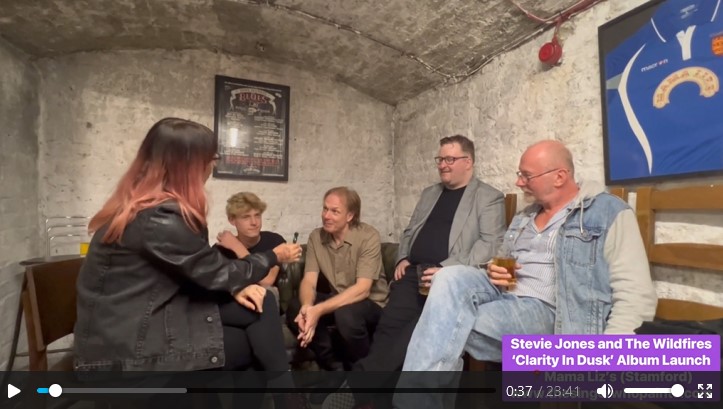 Powerplay Magazine November Issue 268 
"....it's a mellow, chilled out, mainly acoustic affair tinged with folky alt=rock sensibilties and the sort of vaguley Americana stylings that make Counting Crows and The Jayhawks so compelling. Porcupine Tree or Mark Lanegan's 'Whiskey For The Holy Ghost' spring to mind on some of the tracks. It's an album designed to be listened to in its entirety, from beginning to end on an autumnal walk or a gentle country drive....compelling, and at times, beautiful"